Pool Filter System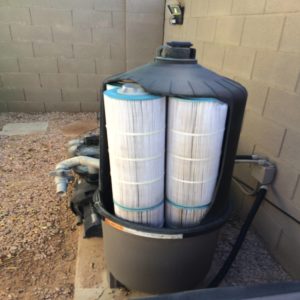 Affinity Pools is an expert in pool filter system repairs and pool structural repairs. All of our repairs are completed in an orderly and timely manner with a strong focus on high quality professionalism. Our filter system repair experts and technicians are knowledgable on the up-to-date latest technology, materials, safety techniques, and requirements.
Pool Filter Repairs and Replacements
Pool filters are the most important component of the pool filter system, and our technicians can overcome any problem with it. Our filter system replacements include pump and motor replacement, filter replacement, filter media recharge, lateral replacement, pool filter upgrade , filter re-piping, pump discharge replacement, flow meters, and more.
Pool filter systems trap dirt, debris, algae, and other harmful matter to protect you and your family in the pool. We supply and install different filter types ranging from high rate sand filters, cartridge and DE filters. We specialize in re-charging the older commercial filters and overhauling them too.
New Pool Filter System Construction
Affinity Pools works with top builders and technicians to design and craft your new pool system. We will work closely with your project managers to construct the best filter system for you and your family.
Pool Filter Cartridge Replacement
Filter cartridge parts are becoming more and more popular since the tightening of environmental codes. It's important for your family to be safe and healthy when swimming in your pool. We recommend that your cartridge filter cleaning be performed every 6 months to ensure maximum filtration. Not electing to have this procedure preformed by a qualified professional, can result in bad filtration and early replacement of your filter cartridges.
Pool Chemicals and Chlorinators
A high quality and secure chlorinator is a priority to keeping water sanitary. We carry various types of chlorinators for use with liquid chlorine, like peristaltic pumps, diaphragm pumps, and an array of mechanized solid feeders that attach to the circulation system.